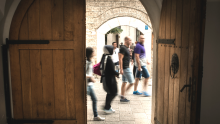 Going on a GP will ground you in an understanding of God and God's movement in the world. Mission is part of the very character of the God who is Love. Mission is not just something that God decided to take on; it's in God's DNA.
When we think about mission, we often think about all the things we could do to help others. But sometimes, the ways we can help the most are by simply being with others and giving the ministry of presence.
On a Global Program, the presence of you and your team can creatively benefit the long-term work of your partners, as long as you focus on God as the primary actor and your team's role as a small piece of the overall work.
A Global Program is not only about changing the lives of the people you will encounter and serve. You also will be transformed by the people you meet and the ways you are blessed by local believers.